An Exclusive Interview With Rhythm Roger Author Himanshu Rai – TheCheckerNews Special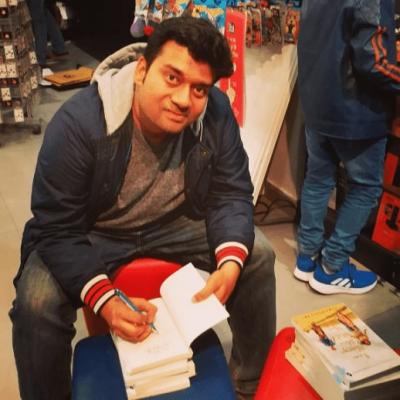 Telecom and imagination can never be the part and parcel of the same coin. But young author, Himanshu Rai, differs. He is a successful telecom professional and now a writer who  connects the two impossible joints of telecom and literature using his impeccable imaginary vision and writing skills. Recently, TheCheckerNews.Com had a one-on-chat with Himanshu Rai over telephone and email for this exclusive interview.
We are proudly presenting below the excerpts of our entire conversation. We hope our readers will not only find this interview interesting but they will also learn the art of writing. They will also learn about how to stay focused on your hobbies even when you are extremely busy with your daily job.
Himanshu Rai is an inspiration to this generation. For him, writing is not about earning money but about loving your passion to write.
Question And Answer Session With Himanshu Rai
We are interested to know what made you conceive the idea of writing a telecom fantasy book?
Ans: Being in the Telecom industry from almost two decades helped me to think about this concept. From the very early days of my technical career, technical terms of telecom looked to me as characters who are struggling among themselves for their existence. This book is a combination of those imaginations. Even when I was in engineering college, I learn technical concepts by imagining them as real-life characters, which made me learn them fast.
Let the readers know something about the protagonist of this wonderful book on telecom fantasy. What propelled you to write this book with a totally uncommon theme?
Ans:The main protagonist of this book is Rhythm Roger, and he is the first time slot in the world of Electrons. To explain, when you make a mobile call, your voice or data travels via time slots; this is mobile technology. But there are different types of timeslots and different other terms on which it depends. This story is about Vslots and Dslots. To understand this story, you need to imagine every technical thing around you as a human being. For example, there is a character in a book with the name "Markboo" he is Facebook.
We know you are a telecom professional. Is this the first of the Adult Fictions series of books you are going to write in future?
Ans: Yes, this is the first book of series of Rhythm Roger. You will find many more in the coming days. When I was writing the first part, the next four parts are already in my thoughts.
Let us know what inspired you to become a writer? What keeps you motivated?
Ans: I feel writing is something that is not because of inspiration, but it's because of the ability to make stories and imagination. So if you can imagine, you can write a novel. Storytelling was always my favorite since childhood. When I was six years old, I start creating my novels by crafting paper and organizing them like a novel with only a few pages and use to write a small story on them.
What are the books you prefer to read?
Ans: Anything which I feel, but I do read books from all of my author friends.
What are your suggestions for the budding writers?
Ans: Be realistic to your thoughts. Do not write to sell, write because you want to write.
Can you explain a bit about your future literary project?
Ans: Presently, I am working on a book called 'Piddu,' which is one of the unique stories anyone would have ever read and then will start working on the second part of Rhythm Roger. My mailbox is flooded with requests for its second part of Rhythm Roger since its release.
Can you narrate to your fans some of your beloved childhood memories that you still treasure?
Ans: I can write a book on this topic, and that too in many parts. But yes, If I briefly narrate my childhood days, I miss my days in my home town Sagar (Madhya Pradesh), with my sisters, parents, and cousins. Those were days when we lived in a joint family, and to enjoy gadgets were never needed. I hope we can free today's generation from these gadgets and help them enjoy life.
Besides writing, what are the other areas in which you take keen interest?
Ans: I love to spend time with my family and enjoy, and also I love to sing, I am good in theaters, and the painting was my all-time favorite.
What is your broad view on today's literary world?
Ans: Today's literary world is like any social media website. You keep on scrolling thousands of feed to get one good post out of them. The same is with books now; with the number of publishers increasing, you get many books, but only a few make to the bestseller chart.