"Write… And Keep Writing. With Each New Line You Pen, You Get Better." – Aiswarya Menon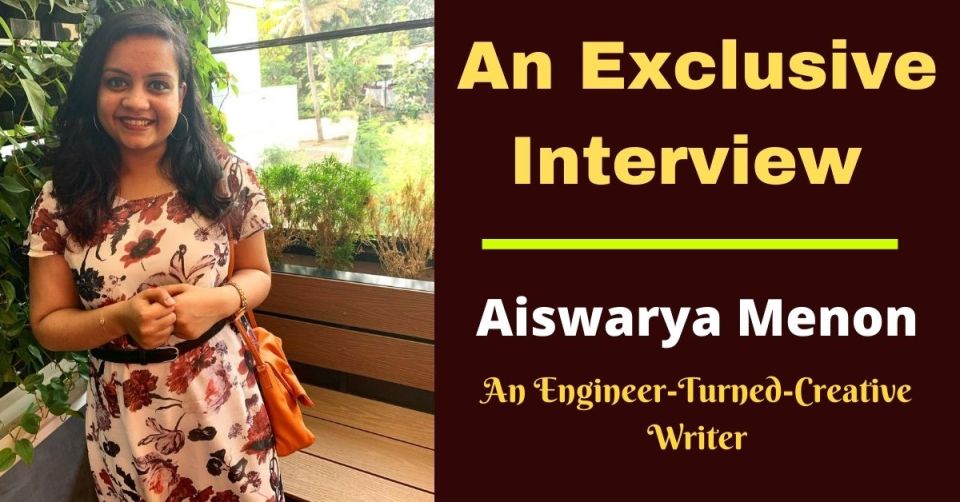 Hailing from Kochi, Kerala, Aiswarya Menon, is someone who is ambitious, blissful, creative, and dedicated. She is versatile and determined. This is what makes Aiswarya different from the rest.
How many times have you heard a first-class B.Tech graduate engineer with honors making a successful career into the world of writing? But Aiswarya made that possible. She is a successful engineer-turned-writer, and enjoying all aspects of it. Aiswarya's struggle, passion for writing, and hard work helped her win against all odds in her career and personal life.
Life has never been easier for her. She faced several hurdles in her life. But, Aiswarya didn't bow down. She chose to fight back. And today, she is doing what she does best. She is writing, and everyone admires her for her enormous creative talents. She is now also well-proficient at digital marketing and SEO (Which she learned from scratch in no time), and successfully spearheading various digital campaigns.
---
You Can Log On To Aiswarya Menon.Com To Know More About Her.
TheCheckerNews has recently invited her for an exclusive interview, and she readily nodded her head for the same —  despite her tight work-from-home schedule and not-so-friendly weather in her city and state.
(Over the last few days, Kerala has been facing extreme rainfall and powerful winds that affected several people throughout the state. We express our concerns, and stand in solidarity with the people of Kerala in this tough time.)
We asked several questions to Aiswarya Menon for this interview, and she candidly gave her answers. We are extremely happy to share this insightful interview with our readers. We are sure that Aiswarya's interview will act as a guiding light to the people who lost all hopes in life.
Here Are The Interview Excerpts
Hi Aiswarya! Welcome to TheCheckerNews.Com. Briefly Introduce Yourself to our readers.
Ans: I hail from the Queen of Arabian Sea, Kochi, and am a Keralite inside-out. Right from my kindergarten, I spent my entire school life at Bhavan's Vidya Mandir, Elamakkara. Soon after, I went on to graduate as an Electronics & Communication Engineer from Rajagiri School of Engineering & Technology with First Class & Honors.
Hailing from a nuclear family, my whole world is my parents. And, being the only girl in my mom's family, surrounded by 4 sturdy cousin brothers(always up to mischief), comes with its own perks. I'm an ardent fan of the horror genre and on a typical weekend, you'll find me binge watching TV series. I love to bake although I have zero knowledge about it and am passionate about dance even though I'm not professionally trained.
What prompted you into content writing? Was writing your childhood hobby? 
Ans:I never knew I had a flair for writing. Right from when I was small, my mother used to take me to the lending library in the city and get me books. Enid Blyton was my favourite author then. Even though I loved to read, writing was never on the cards. It was during college that I came across publishing platforms on Instagram which weaved the whole concept of Micro Tales and nano fiction. It was very interesting and I tried my hand at it. Although it didn't bear fruit initially, 3 of my micro-tales got featured soon after. 
After my college, I joined the campus-placed job as a software programmer. That's when I realised this wasn't meant for me and my journey as a writer began, thus.
I believe we must explore the potential unknown, than settle with the worthless known!

— Ms. Aiswarya Menon —
Can you briefly explain to our audience what you actually do now?
Ans: Currently, I work as the Senior Product Marketer at a seed-funded startup in Kochi, headquartered at Palo Alto. I was fortunate to be a part of the early team which gave me the opportunity to have an end-to-end idea & execution of the marketing lifecycle. It was really fun to handle a myriad of content and I had excellent mentorship & guidance.
The company believed in a fresher like me and I couldn't be any happier at where life took me. Although in the beginning I only knew about content writing, my manager & mentor introduced me into the world of Search Engine Optimisation. Since then, there has been no coming back.
Right from product marketing, blogging, social media marketing, email marketing, and digital campaigns, the growth curve was amazing. I got to learn a lot from a bunch of extremely talented people who are the finest in their respective domain. My instincts have always been the guide and I always watch out for what lies ahead of me. 
How are you spending time at home? Is there any way to make the best out of it?
Ans: We're going through a really difficult time. I miss meeting my friends and spending time with them. But, like most people, being at home has changed the outlook I have towards life. Now I cherish each moment. I spend time with my mom more than before; we cook, bake, chit-chat, fight, and watch movies together.
I take time to be with my friends too, maybe catch-up with a game of Ludo or Carrom (which I always lose). I was also able to rekindle my reading habit which was lost in between all the hectic schedule of college & work. If our meetings can be online and work remote, why not workout? So, I spend an hour of my day with my teacher on virtual yoga classes. 
How did you decide to make a career into content writing when you already graduated with an hons in BTech.
Ans: A week into the training at my campus-recruited job, I knew Java wasn't my cup of tea, but  stories were. I'd place a semicolon in a sentence and not at the end of a code.  Against all those whispers that labelled my decision as reckless & stupid, I resigned just after a week. I received a lot of pressure from family & relatives. My father was my support system and he gave me the courage to face all the criticisms.
To cope up, I started writing and one of my close friends asked me to start blogging and have my website ready. After writing & sharing it with my folks, another friend of mine asked me why not I take up a content writer role as a career. There's no harm in trying.
I started applying and got myself interviews too. It's around the same time I met my senior from school after 8 long years. We got talking and he said about a possible opening in his company. One thing led to another, and before I knew, a new chapter in my life had begun- as a writer & marketer. This was the turning point in my career. 
If you ask me to describe myself in one sentence…
Once a clueless engineer, then a discovered writer, and now a chuffed marketer!

— Aiswarya Menon —
What keeps you motivated and who are your real life role models?
Ans: If at all there comes a low in life, I'm always thankful for writing. It has helped me to stay strong during one of the worst phases in my life. When I lost my father to cancer last year. He was immensely successful in his career and was a dynamic person loved & respected by everyone. I hope one day I can be like him professionally & personally. Not just my dad, my mother & grandmother are true inspirations for anyone.
I haven't met a lady as strong as my mom, as kind hearted, and as understanding. Anything I'm today, I owe it to her. For sacrificing her own career to take care of me and my studies. My grandmother has had immense share of hardships in her life and she has breezed through them so gracefully- an iron-willed lady! If I'm half as good as my parents, I'd count myself luckiest. 
What is your ambition in life? Where do you see yourself after three years?
Ans: I've just begun. There's obviously a very long way to go. I hope one day I get to be one of the best digital marketers in the space and keep challenging myself on every assignment to be a better version of myself each day. 
I don't know if I have the genes of entrepreneurship in me yet, if I do, I'd love to have my own company somewhere down the lane. It would be related to marketing, of course. I also hope to author a book. I've had this dream of seeing my name printed on a hardcover book; always imagined it when I read the 'ode' section present at the beginning of every book I've read.
What advice would you like to offer to aspiring bloggers and digital marketing professionals?
Ans: Write. And, keep writing. With each new line you pen, you get better. Words are to express. Pen your story with passion and market it like a maverick. Have a personal blog or portfolio website of your own and use it to showcase your writing finesse. Keep a close watch on social media; it's a goldmine of what's in vogue. Always remember to keep your network strong.
Personally, I've found

LinkedIn

to be seriously amazing.  
Finally, any tips on how to cope with mental health-related issues, depression and anxiety?
Ans: I don't think it's a light topic that can be explained in a sentence or two. At the same time, I  urge everyone to open up. It can be to anyone; a family, friend, a trusted coworker. Never bottle anything up. From experience, I've learnt it the hard way. It's okay to feel sad, it's only human. Being with people who love you and whom you love will always help you to get through things, one day at a time. 
I hope there comes a day very soon in the future where seeking mental help would not be judged and would be considered normal.
---
{Thank you so much, Aiswarya, for this interview. We really appreciate you for this. Also we wish you very best in your career and future endeavors.}