What Are Sports Bars Doing To Prevent The Spread Of COVID-19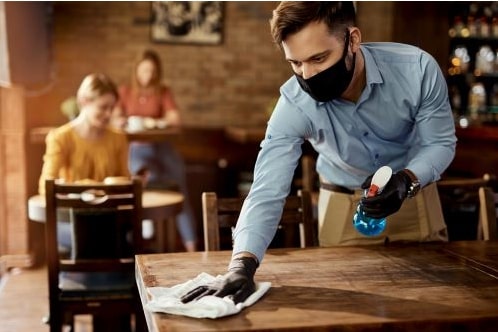 While the harrowing reality of the outbreak cannot be denied, there are some things that can be done to curb or help avoid the spread of Covid-19. Some may be asking what sports bars by them are doing to prevent any additional spread and find a balance for the establishment. At Cold Beers & Cheeseburgers, we take health precautions very seriously and have implemented a series of principles as outlined in the CDC's "Considerations for Restaurants and Bars."
Hygiene and sanitation are general principles that restaurants like ours pride ourselves in maintaining. During this global pandemic, we strive to heed the CDC's recommendations and implement steps to make sure that our patrons and staff are protected to the best of our ability.
Although there are varying risk groups (picking up food versus dining in; outside versus inside), sports bars are dedicated to maintaining a secure and enjoyable environment for all. The CDC's recommendations suggest taking all factors into account and following through with what is deemed appropriate for each location. Restaurants are guided by what is "feasible, practical, acceptable, and tailored to the needs of each community."
Physical and Social Distancing
Because Covid-19 is spread by droplets expressed during talking, coughing, or sneezing, the physical distance needed to respect the social distancing parameters is about six feet. Many sports bars have added takeaway options to their menus so they can still provide tasty dishes for their clientele. But more and more are also opening for dine-in. They are maintaining safety by following the CDC guidelines on how to stop the spread, including attending to social distancing measures.
Hand Washing
Another key component of curbing the spread is to wash hands often and for the minimum 20 seconds. It's like singing "Happy Birthday" twice. Washing and disinfecting hands and surfaces is an easy way to make sure that shared spaces can remain shared. By taking these small steps, we're able to welcome diners back into an environment that's kept clean, so they don't have to think twice about their health and can just come enjoy a meal with their friends or family.
Worker Responsibility
Sports bars near you are also doing what we are and really educating our staff and enforcing stay-at-home orders if they or someone they've come in contact with has COVID-19. Working in food service comes with a level of responsibility that we look for in our team members.
If people aren't feeling well, they're not allowed to come in. This is for their protection, for their coworkers' protection, and for the protection of our guests. We are also keen on providing a safe working environment where there are no fears about losing a job by staying home, so our employees don't have to worry and our patrons can look forward to seeing their favorite servers.
Responsible Operations
Hand and face hygiene are monitored, and employees are briefed on the need for the increased frequency of handwashing habits. Face masks and coverings are being used in accordance with local requirements and CDC guidelines. Because serving means a lot of face-to-face time with customers, team members are keeping all interactions in line with the guidelines.
A healthy environment is paramount to restaurants and bars in "normal" times. It's become an even greater need, and challenge, since the start of the pandemic. It lends to the success of slowing the spread. We disinfect and sanitize our spaces thoroughly and with pride. Sports bars like ours are actively taking a role and doing our part to minimize any spread on our watch, but it's up to each person to care for not only ourselves, but for others in our families and communities.
Scheduling and Hours
Another thing sports bars are doing to minimize the risk of spread is to change their scheduling practices and operational hours. Since we're all taking this new reality day by day, some sports bars near you might have changed their hours or the days they're open. It's advisable to double-check hours online beforehand.
Some establishments are taking the opportunity to install or utilize Plexiglas screens or guards that help ensure a level of social distancing, particularly in areas where it's hard to guarantee the spatial distance. Some venues will be modifying or "reworking" their layout in order to keep enough space between patrons, while still being able to offer a comfortable environment.
There will be more signs reminding people to stay alert and be aware of their surroundings, particularly with regard to waiting for a table to open up. Some places prefer to take reservations so as to prevent excessive waiting or groups of people in close proximity.
Consider Your Other Options
If you haven't considered it already, you can still have your juicy burger and eat it too … at home. With the increasing number of cases, it's still possible to get your meal and enjoy it in the comfort of your own home. Some sports bars offer order online takeaway or delivery services to meet the demand of their guests.
While we're all trying to stay flexible, some people still want to visit the physical restaurant. If outside seating is available, it's another good option so you have access to the open air. Some establishments are altering their ventilation protocols and will cycle fresh air into the building as much as they can in order to avoid stagnant or lingering air.
We're Excited to Welcome You Back
However you'd like to rejoin us—curbside, outside seating, or dining indoors—we're excited to welcome you back. Cold Beers & Cheeseburgers aims to serve the best burgers and beers in a healthy and secure environment, taking care of our guests, team members, and community during these unconventional times.