Must Watch Marathi Movie—Roop Nagar Ke Cheetah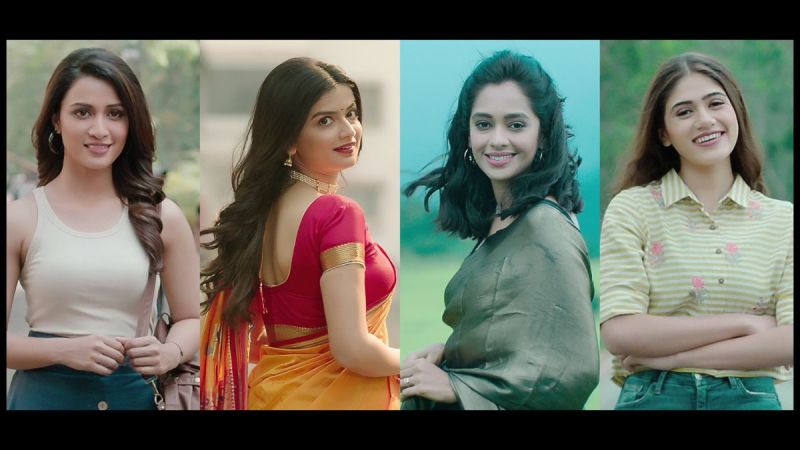 Roop Nagar Ke Cheetah ' tells a new definition of friendship by highlighting the relationship of friendship . This Marathi movie is all set to meet the fans. The film, which has been in the limelight since the muhurta till its poster release, will try to explore new aspects of friendship. In this film, the friendship of the foursome has been given a touch of glamor. Who are these four ? Fans are also eager to know about this. Roop Nagar Ke Cheetah is produced by Manan Shah under S Entertainment banner . This Marathi film has been produced. Directed by Vihan Suryavanshi, the film will release on September 16 across Maharashtra.
Roop Nagar Ke Cheetah tells a unique story of friendship between two friends . Karan Parab and Kunal Shukla will be seen in the lead roles. Mugdha Chafekar to the friendship of these two , Hemal Ingle , Ayushi Bhave And Sana Prabhu His glamor has been affected. All these four have made their mark in the entertainment world as well as in beauty pageants. Mugdha, who is from Mumbai, has done a lot of work on television . For the Marathi film ' The Silence ' , she has won the Maharashtra Government Award for her debut. Princess Sanyogita played by Mugdha in the popular serial ' Dharti Ka Veer Yoddha Prithviraj ' was highly appreciated. Even today she is active on television . Hemal Ingle from Kolhapur It has managed to create a distinct fan base within a short span of time. Hemal, who shined in various beauty pageants , through ' Ashi Hi Aashiqui ' Marathi film industry Debuted . She appeared in the Hindi web series '1962' directed by Mahesh Manjrekar. Her central role in the small screen serial 'Vidrohi' was also a hit.
Originally from Ratnagiri, Sana Prabhu is currently pursuing ' Mass Media and Communications ' at UPG College, Mumbai . 2018 She was a finalist in the ' Miss Pune ' beauty pageant held in Sana ' Roop Nagar Ke Cheetah ' with a great dancer Making an entry on the silver screen through this film. Ayushi Bhave , who has been working in the film industry as a professional dancer for the past seven years , has worked with many famous choreographers like Farah Khan , Geeta Kapoor , Prabhu Deva . Aayushi 2018 who excelled in dance A platform of beauty, intelligence and confidence ' Shravan Queen ' was the winner. Sana Similarly , Roop Nagar Ke Cheetah is also Ayushi 's debut Marathi film.
Although it has been revealed that these four will star in ' Roop Nagar Ke Cheetah ' , the exact roles of Mugdha , Hemal , Sana and Ayushi are still under wraps. What exactly will these four do in the story of two friends ? The audience is also curious about it. Director Vihan Suryavanshi has written this film along with Karthik Krishnan. DOP Santosh Reddy has done the cinematography and Gorakshnath Khande has edited the film. The lyrics penned by Jay Atre have been given a melodious edge by renowned Malayalam composers Shaan Rehman and Manan Shah. Mujeeb Majeed has given the background score and the sound designing work has been done by National award winner Mahaveer Sabanwar. The costumes are done by Vihan Suryavanshi , Sagar Tirlotkar and the color scheme is done by Mahesh Barate. Choreographed by Stanley D' Costa , Vihan Suryavanshi , Santosh Reddy, the film is casted by Rohan Mapuskar. Malvika Shah is the head of production of this film Prashant Bidkar is the production designer.