New Show Katha Ankahee Is Coming Soon On Sony TV | December 05, 2022 PREMIERE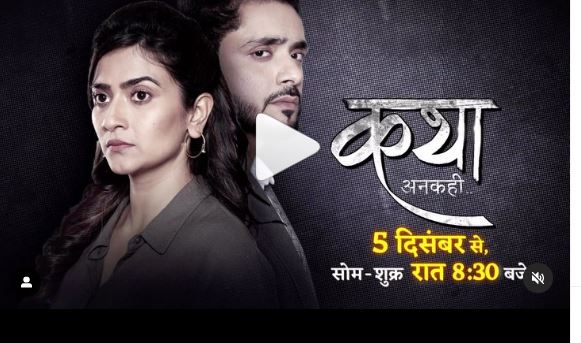 Like many unlimited shows of Sony entertainment channel always provide entertainment to us. New Tv show Katha Ankhaee" will telecast on 5 December at 8:30 PM in Sony Entertainment Television.
According to me Sony always made special concept serials. Faithful audience, eagerly wait for upcoming project of Sony?
Because of this show, Aditi Dev  Sharma And Adnan Khan will make a comeback for this beautiful show. Their fans have good news for them: "Katha Ankhaee" will be shortly  aired in Sony entertainment television.
We all really looking forward to watch "Katha Ankhaee." After all we all have great nostalgic memory about Sony channel.
"Katha Ankhaee" storytelling is very interesting, and heart touching. Hero and heroines look very decent in promo of the show.
Entire team is very well.  Katha Ankhaee untold story is drama series. Which is based on a  Turkish drama (remake).
This show Turkish name is One thousand and one night. This show was announced on  14 October 2022.
"Katha Ankhaee"  is  a remake of popular Turkish  soaf opera  Binbir gece.
Sphere origin produces this wonderful new show "Katha Ankhaee". In this Fictional drama cast is Aditi Dev  Sharma, Adnan Khan, Sheen Das, Samar Varmani in the lead roles.
Katha Ankhaee was initially planned to release 28 November 2022 but later got postponed.
Sujoy Wadhava produces this serial.
Apart from beautiful Aditi Dev Sharma and handsome Adnan Khan, other cast members are Anjinkya Mishra, Girish Sacdev, Sheen Daas and hot Samar Varmani.
I am and every one very excited to watch "Katha Ankhaee."
Aditi Dev Sharma was excellent in Silsile Badalte Rishton Ka. She got golden opportunity to play the female lead character in this drama.
Many years ago, Aliflaila came on TV which was based on Arabian night. Similarly, Katha Ankahee is also based on Arabian nights.
"Ishq Subhan allah" fame Adnan Khan is looking so stunning in promo of "Katha Ankhaee". He is playing a lead role in new show. This new show is special for him and Aditi.
By: Anuradha Home Chowdhury