An Exclusive Interview With Yash Bhatt – CEO Of Crazy Lad Animations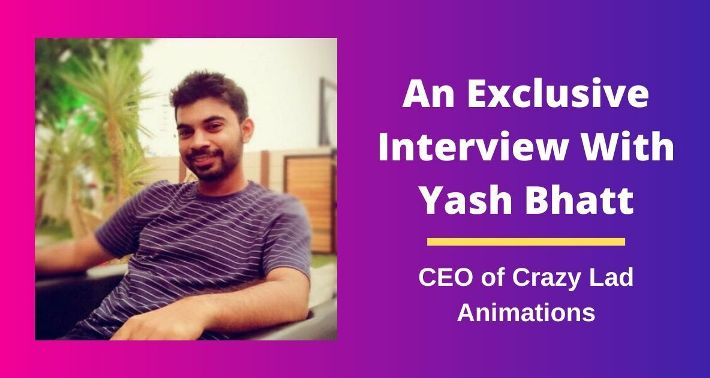 If you can animate, then you can do anything.
Animation is a wonderful combination of arts and science. It's one of the rarest fields where technology (science) and creativity survive in a harmonious way. And you know what… Yash Bhatt, a young entrepreneur and CEO of Crazy Lad Animations (Ahmedabad), is not only showing his unrelenting passion for Animation and graphics, but he is also inspiring so many aspiring entrepreneurs to do and try something new amidst the economic downturn all around.
We chatted with him for this exclusive interview, and his answers speak for the ideas that he keeps on inventing from time to time. Can you believe it?
He did his M.tech in Civil Engineering only to become an entrepreneur and that too in the field of animation and graphics — which are not even distantly related to civil engineering!
The spark in his eyes, passion for animation and the unquenchable thirst for doing something big in the world of animation and AR/VR Development make Yash Bhatt – A true role model to many of us.
Here Are The Interview Excerpts
Hi Yash, Briefly Introduce Yourself.
Ans: I am the founder of Crazy Lad Animations and M.Tech Degree holder in Civil Engineering. Though once we complete a degree, according to "flow", we need to look for a job. I wanted to do something different. I shifted to Mumbai to learn 3D Animations and did a job for 1.5 years. My animation projects include BYJU's, Rudra, Shiva, Motu Patlu, Guddu The Great(Amazon Prime), etc. Then to upgrade myself, I quit 9 to 6 things and started a partnership firm, and eventually, I got separated and founded Crazy Lad Animations.
What Prompted You to Taste Entrepreneurship?
Ans: My father and elder brother are both businessmen. I have always received a note that if you want to grow, you need to work for yourself. Getting experience in a job is one thing, and one can only learn things in one direction. I certainly did not want that. Even now also, I" very much open to trying out something different as deep down I know I will learn something from it. There is so much to explore in all the directions once you become an entrepreneur.
What is the USP of Crazy Lad Animations? Can you briefly explain to our audience what does your firm actually do and what kinds of services you provide?
Ans: We provide a one-stop solution to all the 3D requirements of our clients. We are creative creatures here and we love to offer something new in every project from our side.
Our core strength is 3D Animation and we offer the following services at the most affordable rates:
-TVC
-Branding
-3D Modelling
-AR/VR Development
-VFX
What Are Some of the Major Challenges That Entrepreneurs Are Facing Now?
Ans: The common issue might be funding, new ideas, venture support, guidance, etc. One might think the one who has new ideas, can only become an entrepreneur. Well, I certainly do not believe that. You can certainly study the models which are successful and you can use that because you need to invest so much of your time in market research. But you must offer something that others do not. Keep that in mind.
What Is The Secret to Becoming a Successful Entrepreneur in India?
Ans:I have to say this great dialogue from one of my favorite movies Kung Fu Panda. "There is no secret ingredient. You just have to believe it is special." There will be setbacks but setbacks are not the end. An entrepreneur without courage and self-belief remains in the shell.
Is the ROI in the Animation Industry Sufficient to Survive and Meet the Rising Costs of Business? How Do You See the Industry's Future in the Next Couple of Years?
Ans:Yes, I definitely think ROI is good, and if you want to start with a small, you certainly do not require much investment. This is a booming industry and outsourcing work is not going to stop from abroad. If we consider cost as a factor, which we must, Animations can be produced at a much cheaper rate and that is the reason why Hollywood studios are stepping into India. Animation has already widened his scope and from full feature film to simple animation for nursery kids, I believe the future is good though be ready for the competition.
What Are the Current Job Opportunities Available in Your Firm?
Ans: Currently, we are looking for some good 3D Generalist
What is the philosophy of your life and who are your real life role models.
Ans: If you are tired, do not wait for Sunday. If you are really working, do not care for Sunday!
-Ratan Tata Sir
-Saurav Ganguly for leadership
What Would You Like to Advise to the Aspiring Entrepreneurs of India?
Ans: Believe in your ideas. Do not hesitate to change the field. If you really think your idea is innovative, freezing is not an option you should take.
How can we avoid depression and stress in our lives. Can you please give us some tips on this?
Ans: I prefer these things: Yoga-Pranayam, have hobbies and chill out with friends. I do not believe there is anything more powerful than these 3 things. And have one outdoor hobby. Reading books is just great but play sports, go trekking, eat outside.
(Thanks, Yash, for this amazing interview. We, at ThecheckerNews media, wishing all the best in your life and future. )