An Exclusive Interview With The Newsroom Story Author – Vikram Kapoor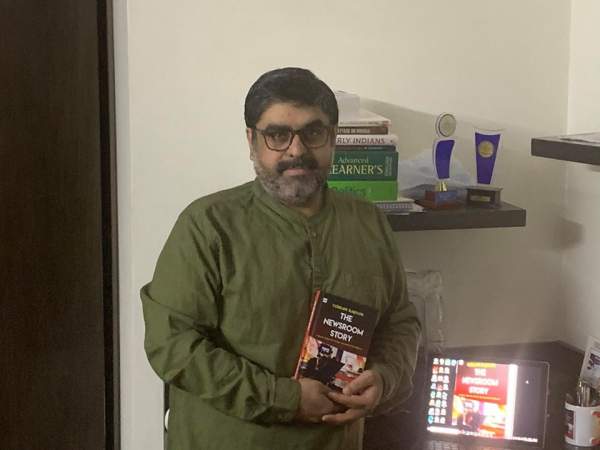 Recently, we caught up with a senior TV journalist Vikram Kapoor. And, as you already know how much I, personally, admire and like media personalities, so I requested him for an exclusive interview on my site. Despite his busy schedule, he gave his nod for it. We are extremely happy with that.
Vikram Kapoor is keeping busy with his new book "The Newsroom Story." Starting from the cover design, theme to the plot, everything is so interesting about it. In this candid interview with the author, we discussed a lot of things.
And I have to give credit to him, he answered all questions with total honestly. With vast experience of 24 years into this field, Vikram Kapoor is someone who knows the in and out of the media industry too well. In this interview, he shared the concept behind The Newsroom Story and what prompted him to write this novel.
Let's take a look at this!
An Exclusive Interview With Vikram Kapoor – Here Are The Excerpts
Hi Vikram. Please introduce yourself to our audience
Ans: Hi friends, I am an Apeejay School of Management Alumnus. After starting my career as a crime reporter in 1997 with the TV series "India's Most Wanted", I have worked in Jain TV as a Reporter/Anchor-Producer, Vaishnavi Corporate Communications, S1 TV, CNEB, Space TV & a news Agency UNI TV and Election research agency CVOTER in different capacities. It has been an honour to be in the launching team of various news channels where I designed the Programming Mix for the channels. My forte is News Programming/ Anchoring, Content Development and Social Media Campaigns.
Producing/Anchoring shows is one aspect of my career, and reporting from the field another. In fact, opportunities have come my way where working in almost every department of News Channel proved to be challenging and yet satisfying. In my international assignment in Johannesburg, South Africa, it was a very challenging task to conceptualise and execution of election programming for a renowned news station ANN7. Training the local staff on all the aspects on a news channel/ election programming was another challenge which was accomplished successfully by me.
My stint with digital media started in 2015 when I did campaigns for corporate, as well as individuals. Doing Social Media campaign for Finance Ministry for budget 2016 was a big breakthrough. I & my team spent almost two months in Finance Minister Mr. Jaitley's office working closely with his deputy Jayant Sinha and very often interacting with PM'S OSD Mr. Hiren Joshi.
In mid of 2016, an opportunity of a very different kind knocked, which was of heading the Social Media Team of Shiromani Akali Dal for 2017 Vidhan Sabha Election. In one year of the campaign, I headed a team of over 90 people and worked in close coordination with the party leaders and executed on ground as well as digital media campaigns. It was altogether a new experience working in an election war room of a political party and strategising the communication policy. Since then I have given consultancy to Individual candidates and very recently I worked for AJSU Party in Jharkhand Elections. In fact, I have been making political films for various candidates since my days in Jain TV.
From being an APEEJAY Management Graduate to a Political Campaign Maker, I have learned the dogma of knowledge vs. experience. I am an insider who has worked along with the most influential newsmakers of all times. Barbaric Criminal Case Studies, Political Cover Stories, Scandalous Celebrity Interviews, Award-winning Documentaries, High Octane Election Reporting, Smartest Social Media Campaigns, I have covered the ground.
After almost 24 years in this industry, I thought of penning this book "The Newsroom Story-A reality Inked By Insider, Speculated By Millions. Through this book, I have offered an insider's perspective to all who guesses on What, How and Why? Who are the people who make it happen? How news reaches your TV sets? This book has it all.
Each and every role and process is defined in detail supported by some real-life stories. The book will definitely help all those who are the students of TV Journalism or are already in the profession and want to enhance their knowledge. The content of the book is vetted by Industry professionals and have got excellent reviews. 
Your latest book "The Newsroom Story" looks too interesting. Can you briefly give some hints on what this book is all about? Of course, we also want readers to buy the hardcopy first directly from Amazon.
Ans: Well actually "The Newsroom Story" is a product of lockdown. Everything came to a standstill on 22nd March 2020, thanks to COVID-19. From being a Chief Editor of A News portal to sitting at home watching series after series on "OTT" Platforms, I was killing my time by keeping myself "busy" but doing "nothing". The schedule was "Wake up, Eat, Watch, and Sleep-Repeat" and it was with everyone in the family. In between this "busy" schedule, I tried reading a few books but failed miserably as my mind was too occupied with "Series".
I must admit that I have never been fond of reading books. Writing a book was on my mind but was way too far. So much so that it's been almost five years since I wanted to write a book. This book didn't had a name, no concept, in all "NOTHING", it was just a "BOOK", a book which was in a dark room which was not there. Before the lockdown, I had purchased a handmade leather diary just because "I liked it" while scrolling a shopping app. This was kept on my study table.
One fine night at 3 A.M in the morning, when I had just completed a "Series", watching back to back for eight hours flat, this diary caught my attention. I picked it up, took out my favourite fountain pen and scribbled "News Programming" on the first page. After that night it was back to square one and this "Diary" got lost in other "Rubble" on my study table. "बात आयी-गयी  हो गयी ". One fine day my son said "पापा सारा दिन सीरीज देखते रहते हो, कुछ और भी कर लिया करो ". That was the moment when I said to myself "Enough", opened my laptop and typed "The Newsroom Story" and words started to flow.
I was sure about the topic as I have done nothing else a good part of my professional career. What followed is in your hands. Everything written in this book is my personal experience. I have written what I saw from my own eyes and made sure that language is simple. Hindi short stories in between is again a personal account and had made the book interesting. It can be helpful for classroom teaching, as a reference tool for those who have just joined a news channel as their first job or as an intern. Keep it handy while in class or in office as it is ready reference material for your use.
Was writing your childhood hobby?
Ans: No, I was never very fond of writing. Television happened by chance. I graduated from a renowned management institute in Delhi and my subjects were advertising and marketing. I had never thought of Television or Production as a career. I started my sales job in a company which used to manufacture crystal glasses and I used to sell those to institutions. By institutions I mean hotels, restaurants, banquets etc.
So, one fine day I came across a small ad in the newspaper in which a production house wanted journalists for their crime based show. This was in 1997. Fed up with my sales job, I went for the interview and was immediately selected for India's first crime-based show "India's Most Wanted" and rest is history.
The Indian Media Industry is facing a tough time. Several media houses have laid off many staff. How would you react to that?
Ans: Yes It's tough time for every industry. There is an outright recession and there is no doubt about that. But if we talk about media especially News Television industry, its been into a self-induced coma from several years now and this coma has nothing to do with the Modi Government Policies. It is because of some unwarranted business houses, I quote here "Big Builders & politicians" who were "distributed" licenses during UPA regime between 2004 to 2014. Believe me; more than 250 licenses were issued to these people whose only aim was to use this medium as a shield against government agencies, CBI etc.
These promoters were far from the reality of the industry. I must say here that few of our industry veterans who were consultants to these builders are also at fault. These builders & politicians were shown, inflated revenue models which fell flat within the first year of operations and ceased operations due to high operative costs thus job losses to thousands of professionals. Today's job losses are due to falling revenues due to COVID-19. The situation will eventually improve in the next six months, but until then the situation remains grim. 
What kept you busy throughout the quarantine days?
Ans: All OTT platforms. Yes until the first week of may i.e. almost 45 days of lockdown Eat, Sleep, Web Series & repeat was the daily schedule and then this book happened. Writing consumed much of my time after that & of course, I was taking webinars for various institutes. This quarantine was first of its kind in our lifetime. Nothing of this sort had ever happened till now so everyone was clueless how to handle this situation including our government. It is a relief that lockdown is being lifted and we are better equipped to handle the situation.
Who is your favourite journalist and why?
Ans: None, Not even a single one. There used to be few like Dr. Roy and Vinod Dua but not now. I would not like to go into detail. Yes! I do admire Yashwant Deshmukh for all his work done in the area of psephology. He is the only journalist/psephologist who admits his mistakes publicly and tries to work upon them.
How can we stay motivated and inspired with so many negativity all around? Any tips!
Ans: It is really difficult during these times. The best way is to read good books and spend time with your family. Believe me, I came to know so many characteristics of my son during this lockdown which I would have never known in regular time. Yes, there is negativity all around, TV is full of COVID, News Paper is full of COVID, entire social media is full of COVID. It is better to stay away from all this by reading books or watching documentaries.
I also understand that people are facing livelihood issues, they cannot go out for work, there are job and salary cuts, but this is an unprecedented situation. Our central and state governments are doing a great job in securing people but seeing the population effected, no amount of effort will succeed 100%. Sooner or later we will come out of it. We Indians are fighters and hard-working people, we will sail through these troubled waters.
Any hints on your future project. Please comment.
Ans: I have started working on another book which will be an insight into India's first crime show produced for television. As I was a part of the production team for quite a long time, I know exactly how much blood & sweat went into the production of the show. Also, the pre-production for my youtube show about unheard stories is complete. Just waiting for my anchor to return from abroad. He is stuck there due to COVID.
Thank you so much, Vikram Kapoor, for this wonderful interview. It was indeed fascinating to know about you and your new novel – The Newsroom Story- A Reality Inked by Insider, Speculated By Millions!
We, at TheCheckerNews, wish you all the best for your future endeavors.
(This Interview Session Was Moderated By Atish Home Chowdhury)