Vijay Deverakonda is all set to mark his acting debut in the Kollywood with his New movie NOTA.
Amol Palekar is best remembered for his Aam Aadmi type of role in some of the 1979 cult classic Gol Maal.
The movie NOTA is touted as a political drama, which is helmed by Anand Shankar.
NOTA features, the aspiring superstar Vijay Deverakonda in the lead role and he has been seen playing a Chief Minister for the first time ever in his entire career.
The makers have unveiled and launched trailer of the movie NOTA which is all about politics, power, and revenge, in short, this one is an indeed full-fledged political drama.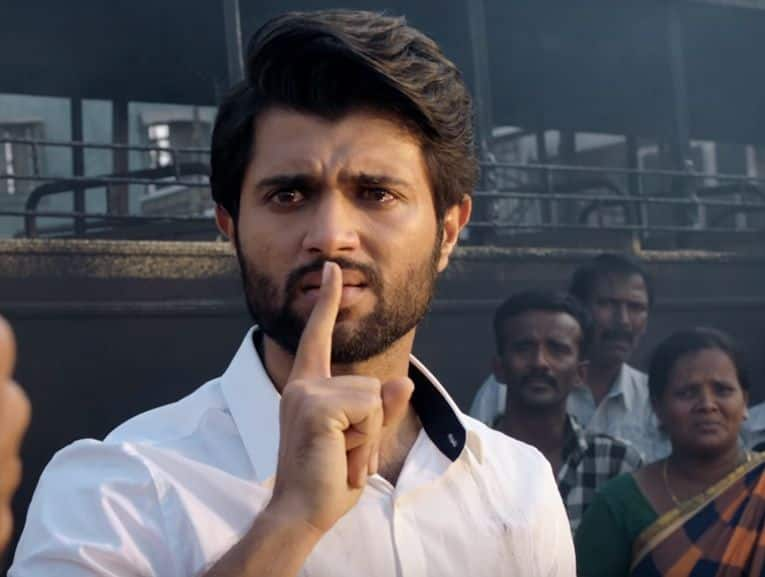 Vijay Deverakonda looks impressive as a politician and looks like he comes so further leaving his Arjun Reddy style and attitude far behind.
#NOTATrailer: #VijayDeverakonda Proved Why He Received Superstar Status With Only 3 Films
NOTA also stars Mehreen Pirzada as the leading lady while Nasser and Sathyaraj also saw in a pivotal role.
Here's the #NOTA Tamil Trailer!
Hey #Rowdy @TheDeverakonda Hearty welcome to the Tamil Film Industry! Be loved and blessed as always..!! #NOTATrailer https://t.co/Ft34xgD2O6

@anandshank @Mehreenpirzada @SamCSmusic @dop_santha @kegvraja @StudioGreen2 @LahariMusic

— Suriya Sivakumar (@Suriya_offl) September 6, 2018
Lead me, follow me, or get out of my way.

Rowdy. Politician. Leader.#NOTATrailerhttps://t.co/SYZdHgtdoE

— Vijay Deverakonda (@TheDeverakonda) September 6, 2018
Suriya sirr, thank you ❤
Biggest 🤗 https://t.co/pzwIQtwEiu

— Vijay Deverakonda (@TheDeverakonda) September 6, 2018
Vijay Deverakonda… First look poster of #Tamil – #Telugu bilingual #NOTA… Directed by Anand Shankar… KE Gnanavel Raja presentation… #NotaTrailerFromSept6th pic.twitter.com/Wb8n450nx5

— taran adarsh (@taran_adarsh) September 3, 2018
#NOTA trailer@anandshank @SamCSmusic@TheDeverakonda @StudioGreen2 @kegvrajahttps://t.co/lAnGe35rWr

— Madhan Karky (@madhankarky) September 6, 2018
NOTA impressive Trailerhttps://t.co/eOFI9BrSp5

— சமரன் (@MosqueMonkey) September 6, 2018
NOTA OFFICIAL TRAILER – TAMIL | promises to be a exciting political thriller from #VijayDeverakonda |Director – Anand Shankar producer @StudioGreen2 https://t.co/B3uUMZw23F via @YouTube

— Sreedhar Pillai (@sri50) September 6, 2018
Check out NOTA trailer starring Vijay Deverakonda here…
NOTA is a Telugu and Tamil bilingual movie which will be also dubbed into Telugu. The movie NOTA has also marked the debut of the actor Vijay Deverakonda in Tamil cinema and fans are already going gaga to have a grand welcome to the actor.
The music of the movie NOTA is being composed by Sam CS and produced by KE Gnanavelraja under the banner Studio Green.
during a media interaction at the launch of the movie NOTA, the leading man Vijay Deverakonda told that he was waiting for the right subject to make his debut in Kollywood anyway, and NOTA is indeed right subject.
"Gnan kept telling me that there is a good script by Anand Shankar and listen to it once. I thought let me just listen to it even though I didn't have any intention of doing it, and I met Anand. And when I met him for the first time, I was shooting continuously and was dead tired, and hence could not focus on his narration. And I asked Anand if he could meet later again for the narration. And this time I was all prepared for it. After the end of the narration, I loved it so much that I called Gnan and told him we are doing it," Vijay added further.