Making a career in music is always difficult. Most of the musicians actually don't know where to start. But, for Vishal Mehta, music is his second life. He has seen several ups and downs in his life, but music has never disappointed him.
He enrolled for a BSC (Physics) graduation course at his college, but the future had something else in store for him. Soon, at this very college, he was introduced to a college music band, and the rest is history.
Vishal Mehta has successfully collaborated with various artists until now, including Ankit Tiwari, Bulla-ke-Jaana fame Rabbi Shergill, and Bollywood actor-cum-singer Farhan Akhtar among others. 
Vishal Mehta will soon release his new album "Only You." He is as much excited about the album as we are. We chatted with the talented musician for this exclusive interview to know more.  
Here Are The Interview Excerpts
Hi Vishal! Welcome to TheCheckerNews.Com. Please introduce yourself to our readers.
Ans: Hi, This is Vishal Mehta and I'm a Drummer by profession. I am currently playing with Euphoria & Vishal Mehta Live. 
How has been your professional journey as a musician so far? 
Ans: It was absolutely fantastic. I got to play with such amazing artists like Ankit Tiwari, Farhan Akhtar, Ali Zafar, Shibani Kashyap, Hans Raj Hans, Satinder Sartaj, Rabbi Shergill and many more and have been playing with these artists on & off and based on the availability of each other as I said, I'm currently playing with Euphoria. 
Other than performing with these artists, I got to learn that how to engage yourself in learning while performing with artists and that's the best way to excel yourself in any professional field to sound and look professional. 
Were you always passionate about music since childhood? Or you developed a passion for it later in your life?
Ans: Yes I was very much into playing since my childhood being 4/5 years old kid and that's what my mom & dad used to say that I use to bang tables & chairs and use to listen to lots of music through cassettes. It was like, when I was in grade 6, was really into playing the drums and the only young drummer to play for the school choir and farewells for the seniors. 
But when I finished my school and came to Delhi to pursue my bachelor's degree, and the course I got admission into was "physics hons", which is also got due to ECA quota. Music did not leave me. 
Now doing this course demands a lot of studies and i was thinking how to continue music now if I have to and suddenly what happened, I got an opportunity to be in my college band then and from there my actual journey started. So, somewhere down the whole journey from my school to college, "Music Chose Me". And now I'm here in front of you. 
How was your experience of joining hands with Ali Zafar? 
Ans: It was an opportunity which came to me. I can say that I was lucky. I didn't hear him till the time I have gotten into playing with him and have to play like full album on the same day I met with the whole band including Ali Zafar. They were all very nice and kind to me. 
I was like in my late 20's when I played with them the whole concert. It was Jahan-e-khusro event happened at Humayun tomb. Also, just to mention, I was the only drummer from India who got this opportunity to play with them twice in a row in 2012 & 13. 
Please briefly explain about your second album "Only You." How was the idea of launching it came to your mind?
Ans: "Only You" The album is all about the love being felt when the two were together but not loving each other and suddenly when they got apart during the journey they actually realised they were in love. So it's about having love on and off in different tangents one can imagine and I tried to describe those feelings through my songs where the songs are liked to each other. 
Actually, the whole thing started in the end of 2017 when I started writing my album and had written almost 12/13 songs in total but none of the songs were fixed or selected for an album. But then I got this concept in which my songs are getting fixed perfectly, hence chosen those particular songs, compiled them and after 3 years almost, the album is in front of you now.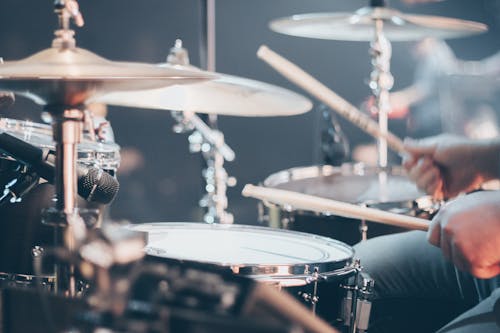 What piece of advice you would like to give to independent artists & musicians? How difficult is to make a career in music? 
Ans: I wouldn't say that being an artist/musician you try to start differentiate music into independent or mainstream but I would say that pls try to believe in yourself and make your own music which defines you. The other thing, which is highly recommended to all the musicians including me that go out, learn and study music. Hire a teacher for yourself if you are serous for music. Educate yourself if you are passionate. 
Can you please share some YouTube links relating to your music/ song/ live performance?
Please advise our audience how can they avoid mental-stress or anxieties when things don't go as per their plans?
Ans: This varies a lot from person to person but this you could find more often in people's life now, as there is lot of stress level which is increased and still increasing. Due to which we are not at top of our game of mental health and it is now issue now and acting up a lot. 
See what you can do to avoid is that, you can choose some kind of an art form like music or yoga which calms down your mind, body & soul. You can go for a walk too or you give yourself a chance to talk to someone closer to you and lighten yourself. So, if stress goes away, everything will be fine. 
Finally, please let us know what is your ambition in life?
Ans: Just to do more & more music and drumming and to be known as independent musician only. And I do hope, the years coming everyone will be happy listening to my albums whenever & wherever.
(Thanks a lot, Vishal, for this amazing interview. We wish all  the best and many congratulations for the launch of your second album.)