"Never Stop… And Put a Lot of Hard Work to Live Your Dream – Nishtha Shrivastava." [Rakshabandhan Authoress]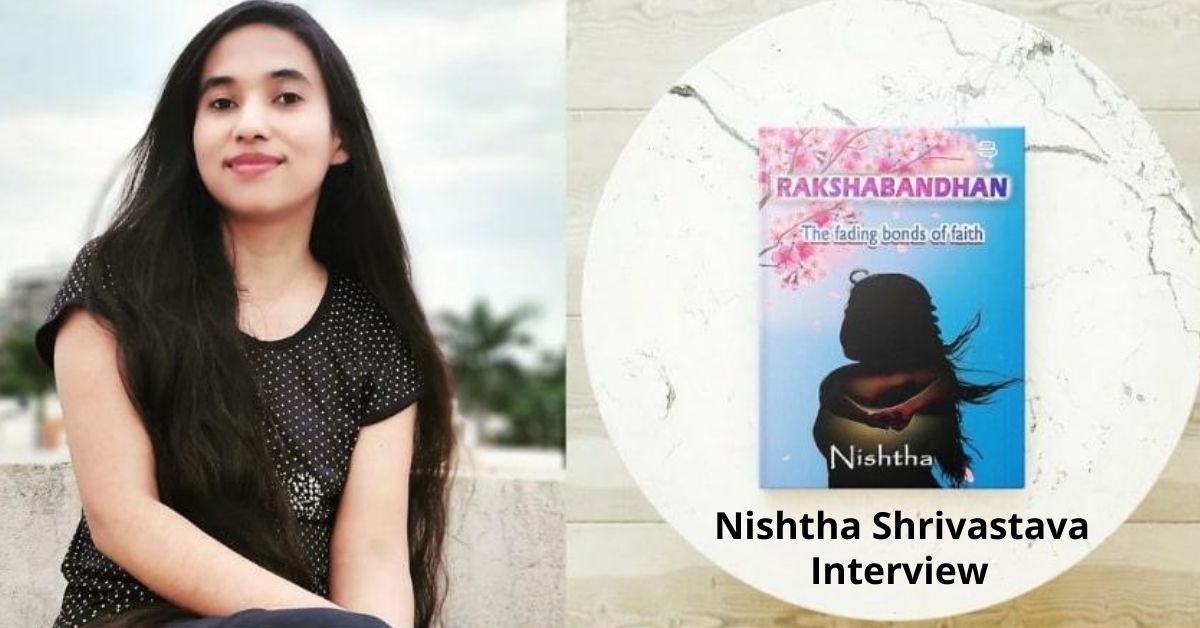 Nishtha Shrivastava can't be happier than this! On the auspicious occasion of Rakhi, she launched her debut novel 'Rakshabandhan,' She is extremely happy and proud of that. As she embarks on a jew journey of an authoress from now onwards, we chatted with the dedicated Nishtha about several things in this exclusive interview.
From an engineer, singer to writer, Nishtha is a girl with multiple talents and skills. She is honest, passionate and ambitious. She loves what she is doing right now in her career. It was truly awesome to talk to Nishtha about several things like coronavirus scare, her hobbies, journey and life. So what are you waiting for?
I hope you guys will also like this Exclusive interview with Nishtha Shrivastava as much as we did. Nishtha is truly inspirational, and someone who is always ready for the hard work.
Here are the Interview Excerpts.
Hello Nishtha. Welcome to TheCheckerNews.Com. Please introduce yourself.
Ans: I am a young, 25 Years old girl who walks independently in every phase of life. I work in a well known IT Company in India, and I am a literature lover by heart. I completed my schooling from Carmel Convent B.H.E.L, Bhopal and did my Engineering from Rajasthan Technical University in the year 2016.
I have worked in well known IT Companies in Delhi and Hyderabad. I hail from the city of lakes, Bhopal, and have traveled across the nation since the past few years. I am the elder daughter of the family and have strengthened my roots by living in a joint family where values are the primary building block. I love unusual things that not everyone does and also dare to surf every not-so-easy challenge of life.
I find immense happiness in writing, singing and painting and believe in spirituality above all.
I own my web: https://peopleimet.in/ (By the people, for the people, of the people) where I share my writings quite often.
"Rakshabandhan- The fading bonds of faith" is my debut novel and my first milestone towards a big dream.
How has been your association with Vividh Bharati – the name itself brings back so many childhood memories!
Ans: So, this is a nostalgic feeling as I was just 2.5 years old when my mother took me to this beautiful world. I would say this interest in the literary world is inherited from my maternal family — and this association with Vividh Bharti was initiated by my mother.
My mother is a storyteller and a freelancer announcer there and I really find her to be my idol. It was her way of expression, which was a big motivator, and I added my own flavors to it. I decided to put myself into this ocean, which is a never-ending journey indeed!
You are immensely creative and versatile. What makes you so multi-talented at the same time?
Ans: I would say I have heard this from my teachers, professors, friends and closed ones, but I never have heard this from my mother yet, and that keeps me thirsty to do a lot more.
I would say I have followed a real strict schedule in my life wherein I never like wasting a pinch of my time. I make my schedules, stick to them, follow them, do all what I am blessed with.
I ensure that I do my vocal practice everyday, I write everyday, I do my job properly and also keep active involvement in the family. Someday, when I really shine I want my mother to whisper this very same statement in my ears that she feels that I am immensely creative and versatile.
Till then my thirst will remain intense and I will keep on burning my midnight lamp to put all my efforts in achieving a dream that my mother must have been weaving for me.
How are you spending time at home due to Covid-19-induced lockdown and widespread coronavirus scare?
Ans: This has really brought a big transformation in our lives, and I really wish that it all heals really soon and mankind refreshes. As my regular job is with an IT Company, I am still following my regular routine of a desk job from 10 A.M. -7P.M. But, I have completely been missing my recording sessions and my Social gatherings where I used to perform and the Street Shows, which were my all time favourite to keep the spark of life sprinkled well.
But as we need to pull out lights from all darks, I have invested my time well in working on the online promotion of my Debut novel, "Rakshabandhan" which got released on 3rd August 2020
I recorded my Audio Book by myself, which was a major learning and this has stormed a lot in my brain to plan my future contribution in the Literary world.
Can you share with our readers a bit about your future literary projects?
Ans: That will be a pleasure so before reaching the future tales I would like to Introduce you all with my Debut work i.e. Rakshabandhan.
"Rakshabandhan is a two-way clear crystal, where a brother named Hansit stains the beauty of this relationship, little Gourav who couldn't even speak was the energy source for Nisha". The word "Relationship" exists in all our lives since forever. When an individual is born he or she is born with the blessing of bonds and associations, some of them are also added later by our own choice but a lot of them exist already.
Rakshabandhan is a critic of the artificial societal frames and sketches the dark reality that changed the life of a little girl Nisha. Rakshabandhan is the most sacred and valued bond between two individuals of the opposite gender and the expectations that are framed from one another are enormous.
This story unfolds the battle of a little one from the modern tantrums of a couple, their hardships of being together and the ignorance that a child faces due to the differences between her parents. The expectations that she keeps from a cousin brother and the shivering end that brings peace to everybody else's life and leaves her in a never ending pain. This story is not just of one girl but of a lot many, but not everyone can dare to recite it as the truth is not always easy to hear.
My next story that is again into the Genre of Social Relationships is under process, This one is going to be on one of the most loved parts of our lives that is our grandparents. The most different thing that I am going to work on in my future writeups is to talk about those topics which remain hidden within us forever. I will really try to draft all what storms within all of us and we still remain quite.
Who are your favorite Bollywood actors and singers?
Ans: If I talk about actors , Siddharth Suryanarayan and Amitabh Bachchan are my all time favourites, because more than movies, I like the philosophies and values of people and so these are just amazing to me. In case of Singers, I am a huge fan of Ustad Nusrat Fateh Ali Khan, Ustad Rahat Fateh Ali Khan & Kailash Kher. The melodies that can touch hearts and remain with us forever.
Who is your real inspiration in life. What attracts you most about English?
Ans: My inspiration of life is the character Nisha of Rakshabandhan, which I have written no, but I know her in and out since long. The battles and the compromises she makes and the selfless attitude is the pillar that I would really like to achieve someday. When it comes to English, that one thing that attracts me the most is its simplicity, and the ease of conveying that this language binds within.
Finally, what piece of advice would you like to give someone who wants to make a career in Radio and writing?
Ans: Be it the Field of Radio or writing or something else that is your dream, I believe in two aspects and would ensure that this is the key to success.
One is to never stop and put a lot of hard work to live that dream and the other is to overcome sorrows as the journey of life will make you meet diverse people, A few will give positive vibes and a few will inject negativity but one should know how to swallow both.
Never built ego nor be humiliated, keep a consistent vision towards everything and trust me this will make you shine bright. Best wishes!
Thank you, Nishtha, for sparing some time for this interview and sharing your thoughts with us. I hope your words will greatly help the youth in transforming their dreams into reality.