Love U Mr Kalakaar Movie Review | Amrita Rao, Madhu & Tusshar Kapoor | My Favorite Film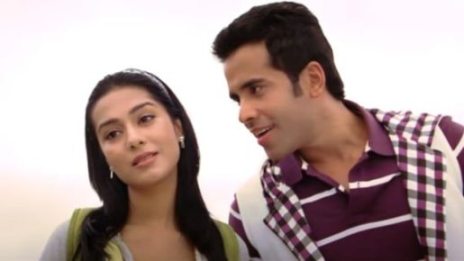 Love U… Mr. Kalakaar My Favorite Movie – Review
For a moment, just imagine… Two strangers are meeting each other for the first time in life! Both have had their shares of tragedies and failures in lives – yet they have an indomitable spirit to do something new and unimaginable with a NEVER-SAY-NEVER ATTITUDE. 
They were on a successful voyage to Destination Love. The flurry of love waves inside their booming hearts  yearned for each drop of longingness for each other's presence in their lives.
Now, The Real Story Starts…
The story starts with Amrita Rao (Ritu) has just joined her dad's company in its marketing department. She couldn't complete her MBA, but wanted to feel how things work at the office.
And there lived Sahil (Tusshar Kapoor)… in the world of cartoons, animation, and graphic designing. Sahil's mind revolves around drawing unimaginable things, he sketches stuff that only engineers could convert into reality – of course after a few years. His sketches revolve around futuristic designs! 
One day, the two opposite worlds meet. Yes, Sahil joined Ritu's company, and a new story starts. What Ritu liked about Sahil was his spontaneity, creativity, and of course, the art of seeing things differently. On the other hand, Sahil was fascinated by Ritu's benevolent behavior, vivacity, and exuberance. 
My Favorite Film 
Gradually, the days passed on. Ritu and Sahil's friendship also grew stronger and unbreakable. Their personal bonhomie soon grew into an unbreakable bond. 
The two people started becoming more and more conscious about their future. In fact, they started thinking about their joint future together. Yes, they fell in love with each other – what remained to be tasted was whether Ritu's dad would agree to this nascent relationship or not. After all, his daughter's future was at stake. 
When a creative person is forcefully taken out of the world of creativity, you know how harsh it can be. But Sahil took it as a challenge. Ritu's dad (Ram Kapoor) asked Sahil to prove his worth in the company. Only then, he can allow for this relationship to flourish.
A Journey of A Lifetime Began
Life threw all sorts of professional challenges to Sahil. Even he had to face a few days of separation from Ritu, as she went to OOTY. But it was Sahil's sheer determination and 'power of love' that he did the impossible. He excelled as a sales professional driving the company's turnover at an all-time high. 
On the other hand, Ritu found it more and more impossible to live without Sahil in OOTY. She still felt his presence in her life. Even her childhood friend (her dad's choice as her ideal groom-to-be) couldn't distract her from Sahil's thoughts. 
And eventually somewhere in the end… Ritu finally found her soulmate in Sahil, and the two got married.
Final Thoughts: I watched this film 73 times in total ever since it was released in 2011. Once you start watching this film, you will lose yourself in a different world for the next 2.5 hours. Try it and you will love it for sure. 
Rating: *****/5 (5-Star Rated)
(By: Atish Home Chowdhury)