To be honest, I'm one of those rarest of rare individuals who hardly use online payment or any transactions. A couple of times, my money got stuck during online payment and yet my money got debited from my bank account.
It infuriated and scared me a lot. Though within one month or maybe less, I got all such transacted money credited into my account — just to avoid those stressful moments — I'm not a big fan of online banking or monetary transactions.
Coronavirus Pandemic Changed My Attitude
Unfortunately, Covid19 hit us badly in March. As I work as a freelance writer, many of my clients didn't agree for NEFT or RTGS or Online Bank Transfer to clear my dues. They  are either reluctant to learn those processes or in each of those cases, you may require an online banking user ID and password from their banks. Maybe many of them may not have those details at hand.  I also couldn't ask them to go to the bank for this very purpose.
Money is important but not more than human lives
They gave me mild hints of displeasure at my reluctance to accepting payment via mobile payment apps. They wanted me to start accepting the reality of mobile banking apps in India. I asked for a few days' time!
It was final: if I don't accept payment via mobile payment apps, they won't give me much work any longer.
Initially, I was, shocked and speechless. How could they do this to me? I am their trusted counted service provider without any grammatical errors or plagiarism in my creative content with 100% originality.
Facing a huge confusion between the devil (lack of content writing projects) and the deep blue sea (integrating mobile app in an Android smartphone) I chose the latter. After a lot of online research and deliberation without discussing with anyone, soon I also jumped on the bandwagon. 
A New Journey Starts…
You know Paytm/ PhonePe and BHIM APP are extremely popular. So many people use these UPI-based apps frequently. It was a bit difficult for me to go ahead with a particular app, as all apps are beautiful, beneficial and easy-to-handle. In fact, all of them work in close cooperation with the user's bank and RBI guidelines from time to time.
I was spoiled for choice at that time
But I wanted something different, easy-to-install, easy-to-receive-and-pay app. I wanted something instant, safe, secured and without any wallet-type structure.
I wanted a single app that helps me pay anyone anywhere and anytime. I wanted a technological advanced app that goes in sync with my banking process. I wanted it just a facilitator for all receipts and payments through my bank. I wanted a transparent app that is just as reliable as my bank.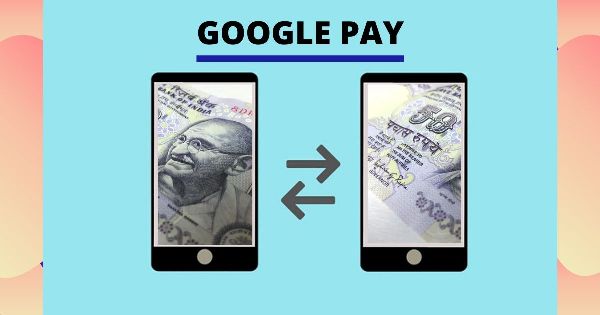 I"m damn sure that you have already guessed the best Mobile Banking and Payment App In India.  It's one and only GOOGLE-PAY.
I am sure it will gain a lot of new customers in the next few years owing to its simplicity, instantaneous transaction and total dependency on the user's home bank. Lastly, it acts just as a facilitator, and is totally free just like Gmail.
How To Pay Anyone (Google Pay – Non Users) Through GPay
Initially, I thought that GooglePay facilitates payments within its network only. But then I got a message from Google-Pay straight into my inbox saying, "Send money to anyone in India, even those who may not use the Google Pay app."
I thought it's too real to be true. So, I thought of testing it out myself. I don't know about other payment apps, but I guess it's highly impractical and impossible that through a particular mobile app you can pay anyone anytime and anywhere.
Google Pay gave several instructions on mail about how to do it in a step-by-step manner. And it's amazing! Just in three or four steps, you can actually complete a banking transaction in India using this app.
Step-1
The primary step is to install Google Pay on your Android-compatible smartphone. Then you have to follow certain instructions like registering your email id, mobile number and UPI PIN. Once all these processes are done, then you may need to update your bank details with the latest information like Bank Account Number, IFSC Code, Debit Card Number and OTP (for verification).
Once the above introductory processes are completed, then you become a part of Google Pay's 10-million+ users.
Many congratulations for that!
Step-2
Choose how you wish to pay; via your beneficiary's Mobile phone number or Bank Account. Simply opt for the Bank Account. You may need to enter the recipient or beneficiary's bank account number and IFSC code. Then you will enter his name and press process payment.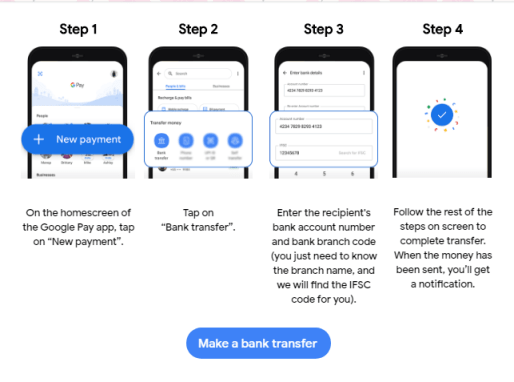 Once the above process is complete, then you will have to enter your UPI pin. Once done… Voila! Your transaction is successful. You will instantly receive an SMS from your bank confirming that your bank account has been debited with a certain amount.
Let me know your thoughts on this in comments.