Recently, we chatted with Ajit Panicker. And before you guess his exact profession, let me say it outright that you can't.
He is a man with multiple talents. He is a person who dons many hats. Ajit Panicker is a writer, motivational speaker, and life coach. You can ask him anything, and he knows how to see the positive side of the same.
From motivational stuff to mystery and crime thrillers, Ajit Panicker has certainly carved a niche for himself in the world of English literature.
In this exclusive interview with TheCheckerNews, The Writing Alchemist author has explained a lot of things regarding the nuances of writing and his life.
He candidly answered each of the interview questions. So, what are you waiting for? 
Here Are The Interview Excerpts!
Hi Ajit! Hope you are doing well. Briefly introduce yourself to our readers. 
Ans: Before I do that, let me first thank The Checker News for interviewing me. I am grateful to you. Coming back to my introduction, Hi, I am Ajit Panicker. I am a Motivational Speaker-Author-Life Coach, all rolled-in-one.
Trust me; it is indeed a tough task to don so many hats. But let me tell you, I love doing all of this, because they are not mere jobs for me. They are my passion, all of them. One of my favorite lines for the bio that people ask me to write is;
That specialization is for unicellular organisms and not for evolved species like human beings.

– Ajit Panicker –
People used to advise me often to focus on one of my skills, but they don't do it now. I am kind of proving them wrong, by successfully maintaining the juggle.
Originally my roots are from Alappuzha, Kerala, the place my parents come from. But I have been born and brought up in Lucknow, the capital city of Uttar Pradesh. And from past fourteen years, I have been out and have now settled with a small family of my own comprising my wife and my five-year-old twins in Ghaziabad. 
Can you please explain how you developed your love for writing and creativity? Was it your childhood hobby?
Ans: Actually, I never knew I would become an author someday, except for the fact that I had been a voracious reader. Back in 2010, when I was going through my share of life challenges, I began penning down a blog called "Conversations between Mr. Nair and his son Prashantan" all because I wanted to vent out.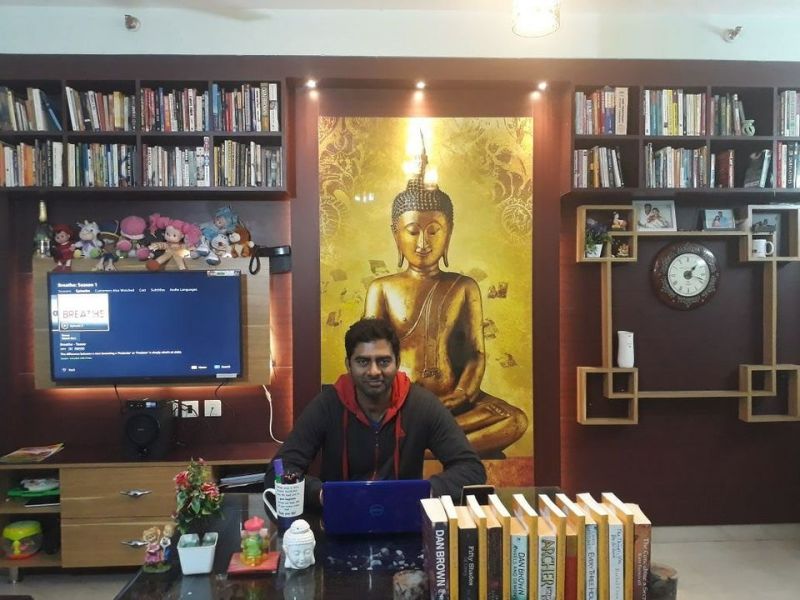 I kept blogging, wrote occasional short stories, but never approached or thought of getting published. Even when my readers suggested I should approach some good publisher, I refused, underestimating my own potential as an author.
For me it was like, "Who would like to publish such an average writing?"
People gave me examples of many such authors who were in oblivion until published by a renowned publisher. I still didn't have that confidence and continued to blog. I had a financial blog also, because in those days, I was a certified financial planner.
Then in 2016, while I was attending a training workshop, I happened to meet a co-trainer Atul Sharma, who suggested me that I can be an indie published author on Amazon. He even showed his own book on it.
That was the day when I decided that I too can be an author.
Without wasting any more time, I began pulling out all my posts that were published in that particular blog "Conversations between Mr. Nair and his son Prashantan" and started compiling them together. Learned how to format them through YouTube and Google.  Finalized a cover page that was being suggested by Amazon, and after a quick round of editing, published the book.
I didn't realize that I should have hired a great expensive editor for it, I just did it. To check how would it fare amongst the millions of books that get published every day. That is my first book, My School "My Father"
Luckily, within 90 days, it became a best-selling book and within two years, it became an Amazon No. 1 Best-selling book. There was no looking back ever since then, I kept writing and kept publishing. But then now I have begun hiring editors and cover page designers also. So that's what is my writing adventure so far.
I am coming up with a new book, a mystery novel called MYSTERY OF THE MISTAKEN MYSTIC. I have been working on this novel from the past two years. The cover page and the title of the book has been revealed. 
Please comment on your literary journey so far. Are you satisfied by it?
Ans:I won't say a yes to it, and say that I am satisfied, because the recognition that most of the authors want is what is missing for me even now. The day each of my books gets available at every store across the nation, I would say, for sure I have achieved something in the world of literature. Until then the struggle is on.
But yes, undoubtedly, I have been blessed by the Lord for all the fame and recognition I have been showered with so far in the world of writing and learning and development.
By now, you have authored so many books and novels. Please tell us which is your favorite genre to write on and why?
Ans: With about one fiction- I think I know you Karunya…Do I, one non-fiction (both in English & Hindi editions) My School "My Father", several short stories, a collection of short stories – The Love and Seek Stories, and now the second fiction novel, a mystery novel- Mystery of the Mistaken Mystic, I wouldn't with modesty say I have written less, it is indeed an impressive lineup in mere four years. I am grateful to the Lord to have showered his blessings on me that I could write them.
My favorite genre is mystery, suspense and thriller with romance, a kind of a multi-genre book, or as we say a hybrid genre.
Now, if you ask me why, it is because I love reading all of these genres although as individual genres! Very few authors in India write in hybrid genres. Most of them either write Romance or Mythology these days. And those who write mystery, it would only be a mystery.
How can you discretely write a novel only with one genre in it? May that be the reason they are successful. But for me a book is like a life, a life with multi colors, so a book with multiple genres. I won't say I write like Dan Brown or Jeffrey Archer or may be Amitav Ghosh or Anita Nair. They write what they feel like, with their own unique writing style. I write what is mine. There shouldn't be any comparison. Neither do I ever would like to be called as Dan Brown of the East or Jeffery Archer of India. I am simply Ajit Panicker, an author from India.
Are you planning to launch any new novel or book this year? When can we expect a new novel from you?
Ans: As I have been saying, let me reiterate, my second fiction book, a mystery novel is releasing on 6th September 2020 on Amazon. It would be available worldwide through Amazon as an eBook. The title of the book is Mystery of The Mistaken Mystic. Shortly after that within a month or two, I am coming up with a short non-fiction read, with a title called Back to Basics – Solution to Coronavirus. 
How are you keeping yourself busy at home due to COVID-19?
Ans: COVID-19 has been traumatizing for most of us, but fortunately it has been a boon for me. The vouch I had taken to stay fit and develop a toned body by my fortieth birthday could come true only because we were all locked up in the lockdown. You won't believe I went very close to have got the six-pack abs.
I am a strict organic exercise follower which are basically exercises without weights, just the desi way of doing exercises.
So, I need not keep busy. The morning starts with at least a five-kilometer jog followed by 30 minutes of organic exercises. Then the daily routine of freshening up, followed by breakfast. By 10 am, I sit down to conduct my webinars, the training I provide to my client's manpower.
In the evening around 6 pm, I try to take my kids out in open where there is not much of population around, help them ride their bicycles, play football or cricket with them. And then in the evening between 8-9 pm sitdown with my laptop and write. I write every day, something or the other. Currently there are five short stories, two fiction, one non-fiction on my writing table which are at different stages of completion. 
Follow me on My Official Facebook Page.
How can a writer become successful in this field?
Ans: No one can guarantee you a success in the field of writing. Forget about writing, in any field. You have to have that attitude of not giving up, even if not a single person is available to read a single chapter that you have written.
Few things the wannabe writers can keep in their mind while writing is –
5) Take writing as your passion. Don't leave your job or business entirely for it, right from day one. It should be something that you follow out of the love for it.
4) Don't be mistaken that the authors earn millions. Yes, there are handful of them, those who do, but they are out of many millions of writers.
3) Don't write thinking it will make you famous overnight. It takes time. You should have that patience to succeed, in spite of all the failures you face.
2) Read extensively, all kinds of books, especially those genres that you want to write in.
1) Understand how the marketing of the book is done. It is important because by whatever medium you get published- traditionally or indie-published, you have to have great understanding about marketing. In these times especially the online marketing. 
Who are your real-life role models? What keeps you inspired?
Ans: My real-life models. It is an exhaustive list. But if I have to take names, the first one is Dr. APJ Abdul Kalam, second Mr. Narayan Murthy, the founder of Infosys, Mr. Ratan Tata and Dhirubhai Ambani, for their commitment, passion and integrity towards their job.
MS Dhoni and Sourav Ganguly, for being the kind of leaders they have been on the field.
In the field of writing, they are not my idols though, but I like reading them, Ashwin Sanghi, Amitav Ghosh, Anita Nair, Khaled Hosseni, Jhumpa Lahiri and Chetan Bhagat. This is the list of Asian writers.
Among the writers from the west, Dan Brown, Jeffrey Archer, Malcolm Gladwell, and Yuval Noha Harari. My NGP attitude inspires me every day. My Never Give Up attitude. I don't give up, I give in myself into the task, job, work I have taken up and ensure to sees its completion, come what may.
But more than that my family- my parents, my siblings, my wife and my kids, inspire me the most every day. There is no point in being successful without they being the part of your struggles, juggles, failures and wins.
What shall be your expert advice to the aspiring writers and authors who are reading this interview?
Ans: See I am no Jeffrey Archer, J.K Rowling, Amish Tripathi or Chetan Bhagat, I am simply Ajit Panicker, who too like them, is trying to make a strong impact in the world of literature. I may not have as wise an advice which these people might have, but still, I would give you a five pointer if you really want to do great as a writer or as an author.
5) Keep writing. Write every day, may be just about 100 words, but write.
4) Keep a regular schedule, a definite time to write so that you force yourself to sit down and write.
3) Keep all distractions like mobile, music, tv away and sit sown in a quiet place.
2) You may not get published in the first five years, but don't give up, keep writing. Bring your manuscript to a stage of editing.
1) Hire good editors and cover page designers who can take your manuscript to another level.
Finally, Can you recall some difficult moments that you successfully overcome in your professional journey?
Ans: My most difficult moments originated from me. I have always been an extremely short-tempered man. But over these last twenty-one years I have mellowed down a lot. So, every time, I have got myself into a difficult moment, it has been my temper, and then the rash decision that I took.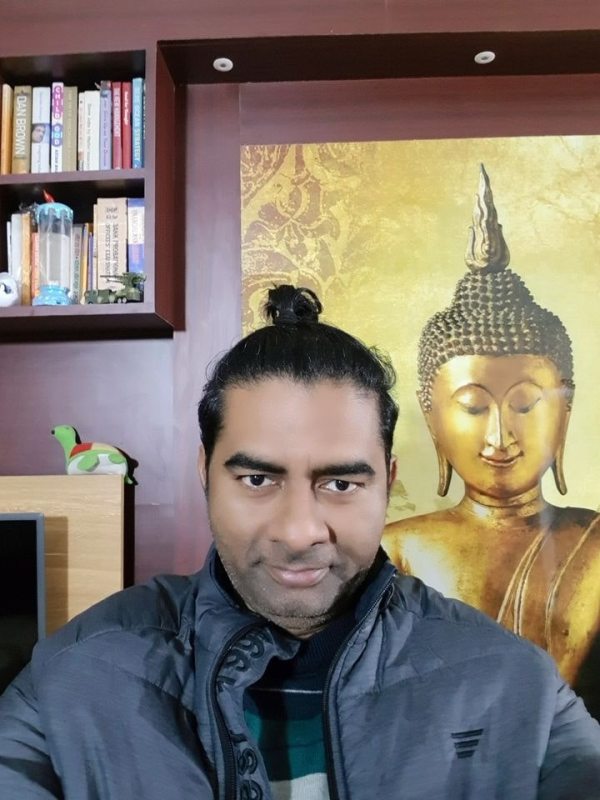 But like everybody else, I too had my difficult moments. It was immediately after my marriage. We had been just about six months into our marriage, and I lost my job in 2009, due to the recession in those days.
A new family with relatives from my wife's side often coming up, we couldn't stay up to their standards of living because it was only my wife who was working. Thanks to her job and her strong determination, we didn't give up and fought like a sensible couple should.
Months later, but yes we came out of the situation. I had a job but then that too only for about nine months because, I had always had this passion of setting up my own company. I did in 2010, but unfortunately it bombed and I had to shut it down two years later. I got back into a contractual job, so that I could follow my passion of writing.
I hope you guys have really liked this fascinating interview of Ajit Panicker. Herewith, we at TheCheckerNews, also wish motivational author and life coach a very best in his life and future endeavors.