New Update: Finally, keeping all rumours aside, Kanika Kapoor came out in the open with the following statement a few hours back.
No, I'm not a big fan of Kanika Kapoor. I have hardly watched her songs more than once or twice. I'm neither a blind female supporter!
Still, if the media, people and other celebs, constantly go on and on criticizing a girl just for the sake of it, then I must present my viewpoint on this entire Kanika-Corona fiasco in an unbiased manner.
We (including the Indian media) are known for swooning over a celeb, their lifestyle, look, bungalow and work-out regime among countless other things. Once we create their larger-than-life image inside our minds, it becomes quite difficult when that equilibrium gets imbalanced. We consider them superhuman and infallible.
A few days back, when Bollywood singer Kanika Kapoor was tested positive for COVID-19, the entire media and Indian populace pounced on her for hiding travel history from the Indian authorities. Last week, She Gave An Exclusive Interview and denied hiding any crucial information from the Indian authorities.
Of late, Bollywood actress Sonam Kapoor has come out strongly in support of Kanika Kapoor.
Hey guys @TheKanikakapoor came back on the 9th. India was not self isolating but playing Holi.

— Sonam K Ahuja (@sonamakapoor) March 21, 2020
Sonam said that the Baby Doll singer arrived in India on March 09th, and at that time, Indian people were mostly busy playing HOLI.
What Kanika Kapoor Said In Her Defense
Talking to a leading media house, the singer explained about the entire saga revolving around her. She reached Lucknow by flight on March 11, 2020.
At that time, the government didn't make it mandatory for every incoming passenger to go under mandatory self-quarantine.  
Then again she was screened in Mumbai and was perfectly alright before she boarded for a Lucknow-bound flight. It was only a few days later, she developed some flu-like symptoms, which ensued her Covid-19 test that came positive.
According to the latest report, Kanika is under quarantine at an isolation ward at a hospital in Lucknow. She has been tested third-time positive for COVID-19.
Please Stop Being Cynical
If I don't know what will happen to me after a few days, then how can the people of my own country start blaming me with terms like 'irresponsible', 'corona carrier', 'infected queen' and many others?
No, Kanika Kapoor didn't say anything.
I, as a responsible citizen of this country, just feel pity for the netizens who resort to online trolling for a 2-minute fame!
They don't even have the heart to imagine how a girl or woman feels after facing such a nasty level of online bullying.
I can't even mention some other online jargons (coined by the millennial and netizens) on Kanika Kapoor. They are misogynistic, outrageous, abusive and highly-vitriolic.
Top 7 Facts About Kanika Kapoor-Coronavirus Controversy
1) She came to India on 09th March from London. There was no self-quarantine advisory issued by the Indian government then. We were busy playing Holi – keeping all self-precautions at bay. 
2) Before she came to Lucknow, she was screened in Mumbai with no health issues. 
3) The viral images of Prince Charles and Kanika Kapoor on social media are old images of 2015 and 2018 as per India Today Anti-Fake News War Room (AFWA). 
4) Taj hotel in Lucknow tweeted that the popular singer was perfectly alright and had no fever when she arrived there. They have been doing a thermal screening of every arriving guest since the coronavirus epidemic broke out. 
At all our hotels, we have undertaken extensive precautionary measures including thermal screening of all guests, staff and vendors. At the time of check-in, her temperature was found to be normal. The safety and wellbeing of our guests and associates are of paramount importance.

— Taj Hotels (@TajHotels) March 21, 2020
5) Among the celebs, Apart from Sonam Kapoor, veteran actor Rishi Kapoor also came out in support of the bubbly singer. 
I appreciate, believe and respect The Taj Hotels has for all its guests regarding safety and security. Please tell this to the Media and the concerned Government. Unnecessarily the lady concerned is being victimized. With your strict measures surely she wasn't carrying the virus. https://t.co/nLihhM3vyT

— Rishi Kapoor (@chintskap) March 21, 2020
6) The singer caught the coronavirus only after a few days of her stay in Lucknow. She didn't arrive there with the disease or any other symptoms.  
7) She urged her fans to stay indoors and get immediately tested if they feel unwell or experience flu-like symptoms. 
Blaming And Shaming Her Won't Help You
Move On. Stop blaming Kanika Kapoor.
If you are a responsible citizen, then you have to do your bit. Be a warrior by staying safe and keeping others safe. Don't be a villain by spreading rumors on social media or by going outside your home just for fun or any other unimportant reasons. 
(Image Source: Kanika Kapoor's Instagram)
The number of coronavirus-positive cases has gone 700 plus in India with around 16 deaths. Unfortunately, people are still considering it as normal flu. Here are some serious considerations that people must pay their attention to. 
1) Please stay indoors! Don't go outside unless urgent. 
2) It's not a lockdown diktat from the Indian government; consider it as your only remedy to stay uninfected and safe.  
3) The government will ensure the supply of essential things; please don't hoard as if the world will end tomorrow.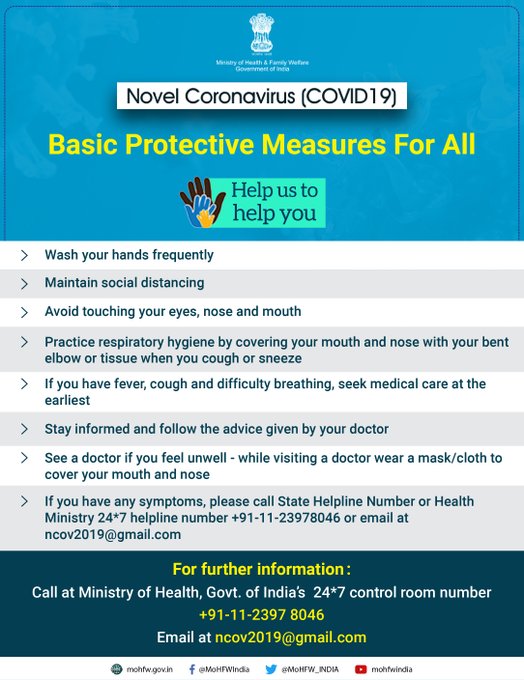 (Image source: https://nhm.gov.in/index4.php lang=1&level=0&linkid=464&lid=718)
4) This too shall pass. But if we continue defying the rules and guidelines set up by the authorities, then nobody can save India from becoming another ITALY! 
5) Please and please don't resort to panic buying. Only buy what you need. And also avoid going to a single shop where already too many customers are present.  
6) As far as possible, stay isolated and avoid coming in close contact with the people. Maintain social distancing and please stand at least 2-3 meters away from another person.
Just watch any television news channels and see how devastating the effects of Coronavirus are. Maintain your hygiene and keep washing your hands and face properly at frequent intervals.
Till then please spare Kanika Kapoor. 
(By: Atish Home Chowdhury) 
Featured Image Credit: Kanika Kapoor's Instagram Profile