Welcome to TheCheckerNews.Com. Please speak a few words about yourself and your company.
Ans: Hi, hope everything is well. My name is Abhijit Roy and I am the co-founder and CEO of AAPNA Infotech, passionately working as a technology entrepreneur for over 30 years and providing solutions to enterprise customers and startups.
We architect, build and maintain robust enterprise applications using modern technologies and tools, while maintaining strict coding, QA and documentation standards.
Derived from the Sanskrit word for 'Reliable', AAPNA strives to:
Be known as a "Great place to Work"
Keep improving our quality year on year
Never lose a relationship
Be the best in whatever we do
Uphold respect and honour over all else
How did the idea of Aapna Infotech to Virtual Aapna Infotech struck your mind?
Ans: Like everyone else, we were forced to go virtual due to Covid in March of 2020. However, we found the model to work extremely well, and lots of advantages were becoming more and more apparent. Our industry leader, TCS, was quick to declare in May that they would adopt a virtual model going forward, and this got us thinking. The more we thought about it as a long term strategy, we started realising the feasibility of the same, as well as the new potential opportunities that the VIRTUAL model would open up for us. For example, we are now able to hire people from across the country. As we discussed it among other industry leaders, we found a lot of favour to the strategy, especially for the software industry, as anyways bulk of our customers were spread across the world.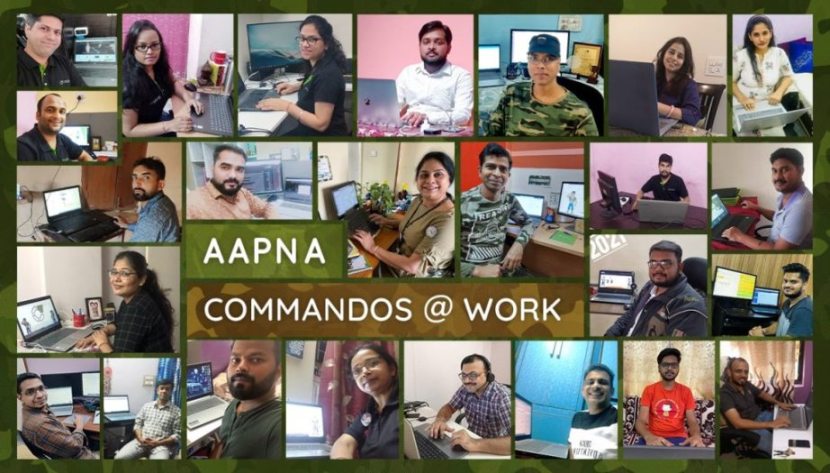 How do you see the upcoming challenges as you move virtual or as you said before is it really a win-win for all?
Ans: The decision to work virtually brought a significant advantage to the existing team members, and also opened up a nationwide talent pool for AAPNA to engage. This is probably the single biggest advantage that has come out of the "AAPNA GOES VIRTUAL" decision. Overnight, AAPNA went from being a Delhi-based company to a nationwide company making the AAPNA team a  true image of the GREAT INDIAN DEMOCRACY, and a truly inclusive workforce.
The new normal is "FUN AT OFFICE", while you "WORK FROM HOME".
AAPNAites can now move out of overpopulated cities, and build amazing lives in smaller towns. AAPNA is able to now employ young mothers, who were otherwise unable to commit to a dedicated working schedule. The AAPNA Bandaaz can have a far superior lifestyle, which is well balanced with more family time, and the simple pleasures of having lunch with the family, and help with odd jobs, is a perfect win-win.
How has the coronavirus pandemic affected business firms in the last couple of years?
Ans: In 2020 the world was hit by COVID –19, and all companies were forced to shut offices at short notice. While most companies were eagerly looking forward to the lockdowns being removed, the AAPNA management was quick to realise the advantages of working from home and started deliberating on making this move permanent. We believe that the way people do business has changed forever. While many businesses have shut down permanently, many have adopted new ways, and many many new business models have emerged. Going into the future, the number of virtual workers across the globe will increase phenomenally, and this will impact everything, be it real estate, travel, or entertainment.
What are some of the key job opportunities available in your company?
Ans Needless to say, in the new Virtual AAPNA, the biggest need is for strong HR, and IT admin, and these are the key job opportunities, and these teams have grown significantly over that last year @ AAPNA. Other than that, of course we hire a lot of software engineers for our various delivery projects.
How did you convince your employees about the company's permanent move to go virtual? What was the reaction of your HR team?
Ans: While making it all possible, by policy, AAPNA HR and management is working tirelessly to figure out new ways to make sure, the WFH experience is an AWESOME one, and the team takes pride in working for a company which is setting itself apart and puts wellbeing of the team members above everything else. The company has always been strong on building culture, but as a result of going virtual, the company has started focusing on "Culture of Ownership", and working passionately on it. The company is also going for industry recognition, and is currently in the process of undergoing a "CULTURE AUDIT" from the global organization, "Great Place to Work".
100% virtual – right from onboarding to team interactions, to project work, IT support, fun team activities, learning and development, and yes team events – EVERYTHING IS VIRTUAL
Strong support – Apart from your laptop, and Wifi reimbursement, we are also providing Furniture allowance/ fashionable Workpods delivered to your homes, Welcome Kits, etc. to give the feel of OFFICE AWAY FROM OFFICE.
Healthy Balance – Our HR is constantly organizing fun activities, games. FundooFriday, Coffee Meetings, Fitness activities, and many other activities, to make sure it's NOT ALL ABOUT WORK.
It's not all Virtual- Huh…yes…we will have ways to interact physically. Our Head Office located in Gurgaon, will be open for all to come and join, when they want to. We also plan to open pilot offices in all major metros, and towns, cities, we will encourage monthly visits to nearby towns, where they can physically MEET and GREET their fellow team members in a PHYSICAL environment. Recently the company declared a Rs. 1000/per person special weekly allowance for any one meeting a colleague for lunch.
Better Rewards & Recognition's- Aapna Organises Town Hall & events to connect with each other to recognize & reward the work done by Commandos in the form of Instant Shabashees, WARRIOR OF THE MONTH, AAJ KA BAZIGAR, SPOT TEAM AWARD and so on. Many instances, HR is sending physical awards to AAPNAItes home as well.
AAPNA MAHA UTSAV- The company is planning an Award festival where all AAPNAites from all over the country will converge at an exotic location to be HERE and NOW with the entire AAPNA family and get to BOND with each other, through games, presentations, team activities, and lots and lots of fun.